New Mexico Scientific Resources
Air & Water Quality Division
NMSR-0822-F-09-25-1999-R3
PROVISIONAL DATA - SUBJECT TO REVISION
OUTSIDE-AGENCY RELEASE MUST BE APPROVED WITH MW_402 MEMO FORM
Original Document 25 September, 1999
Updated 30 March, 2000

As part of ongoing analyses requested by Sen. P. Sanchez and a onstituent, this office has performed several additional analyses of the Sweep Assay samples collected with the Airborne Assay Mission of 5 September, 1999 (the "contrail/chemtrail" flights). As directed, and because of the clearly controversial nature of the test results, these were not handled at AlbuChemical as usual, but were performed in-house by M. D. Stevens and J. P. Aguilar. Typical results are shown below. Some minor contaminants produced spikes such as the one at m.w.=6 below, but these were not repeatable, and clearly due to contaminants already in the lab. But the dihydrogen monoxide spike at 18.02 was repeated on every analysis, and over 80 of these were performed. The samples clearly and positively indicated the presence of very significant levels of dihydrogen monoxide in the samples of contrails taken 5 September.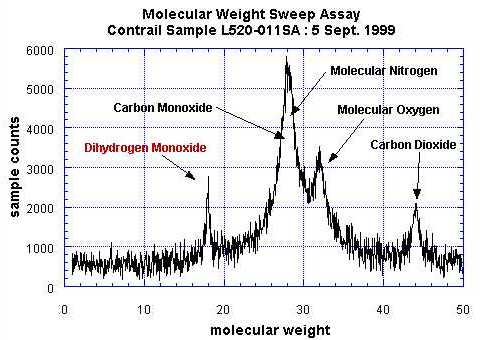 A standard literature survey confirmed that dihydrogen monoxide is clearly a toxic hazard worthy of serious concern and attention. The following symptoms are documented:
Several deaths are confirmed due to ingestion of high concentrations of the liquid phase. Symptoms included rapid cessation of breathing, and death in 3-10 minutes.
Corrodes equipment, can destroy steel containers over periods of months to years.
When found in gaseous phase, will cause severe 3rd-degree burns to any exposed areas.
Direct exposure of bare skin to the solid phase can lead to convulsions, loss of body parts, and even death.
The sensitive nature of these findings cannot be overemphasized. Please see the update for disposition of results.
PROVISIONAL DATA - SUBJECT TO REVISION
OUTSIDE-AGENCY RELEASE MUST BE APPROVED WITH MW_402 MEMO FORM