New Mexicans for Science and Reason presents

The Top Ten Myths of Intelligent Design
By David E. Thomas
Presented at Darwin, Design and Democracy V
September 25th, 2004
and at Darwin Day 2005, UNM
February 11th, 2005
Author: Dave Thomas, nmsrdaveATswcp.com (Please help fight SPAM! Please replace the AT with an @ . NOTE - ALSO, PLEASE USE A DESCRIPTIVE SUBJECT LINE! E-MAILS WITH NO SUBJECT LINE, OR ONLY A ONE-WORD SUBJECT LINE, WILL BE AUTOMATICALLY DELETED AS SPAM!)

Introduction
The "Intelligent Design" Movement tries to avoid the pitfalls of traditional creationism with a multitude of illusions, misrepresentations and myths. Here are my Top Ten Candidates!

Myth #10: Methodological naturalism is the same as Philosophical naturalism
Science does not say that miracles and the supernatural can't exist - however, they don't make good scientific hypotheses. A famous Sydney Harris cartoon shows this well: "Then a miracle occurs" appears in the midst of equations on a blackboard, and a scientist says to the writer "I think you should be more explicit here in step 2." Indeed!
What does science really say? National Academy of Science: "In science, explanations are restricted to those that can be inferred from confirmable data - the results obtained through observations and experiments that can be substantiated by other scientists. Anything that can be observed or measured is amenable to scientific investigation. Explanations that cannot be based on empirical evidence are not a part of science." NAP, Evolution and the Nature of Science
The Bible Code is an example of a "Miracle" that has been described in sufficient detail - explicitly - to allow for scientific testing. This very elaborate method is supposed to produce hidden messages, but only in the Torah. However, this method can be applied to other, "mundane" texts, and these hold detailed hidden messages also, disproving the claim. Even the word GENERALIZATION , shows a bonafide hidden NAZI as an equidistant letter sequence (ELS).

Philosophical Naturalism/Materialism - the belief that Nature is All there is, that there is no God or Gods, etc. - is indeed a religious belief that has no place in a public school science classroom.
Science teachers should stick to mainstream science, and leave the students to their own philosophical conclusions. However, they should take care to teach science, not unsupported hypotheses or special interest pseudoscience.
An example of a pseudoscientific claim unworthy of being taught can be found in the "Apollo Landings were a Hoax" movement, which has books, videos, web sites and television shows showing the supposed evidence. One of the arguments from Bart Sibrel's Apollo Lunar Landing Hoax website says that shadows in photographs of astronauts on the moon can't be from sunlight, because they're not parallel. But this phenomenon is easily explained by anyone who has seen train tracks recede into the distance.
ID explains nothing about biology, except that everything is too darn complex to have just evolved. But science needs explanations to put to the test. Science has to explain the world in Detail.
Dembski has said "An argument from ignorance is still better than a pipe dream in which you're deluding yourself."
No, an argument from ignorance doesn't predict any details, and can't be tested!
Question: What do Rats have that Humans and Gorillas and Chimps don't?
Answer: Rats make their own ascorbic acid, as do many animals. Primates can't (mutations), guinea pigs can't (other mutations). How does ID explain this? Did the Designer Goof? Why hasn't there been a Design Modification? Humans v2.1.1? Why do Apes have the same Errors?
Evolution does explain this: primates share similar gene errors because they were "copied" from the same source - our common ancestor, who survived mutations with changes in diet!

Designs, such as a blueprint for Thoreau's Walden Pond cabin, are simply idle curiosities until they are used to build something. The Embodiments of Design are Creations, like the actual Walden Pond cabin. We're talking about real hardware, like the bacterial flagellum. It's a misrepresentation to say that "design" isn't really about "creation."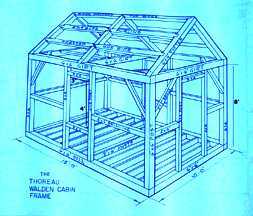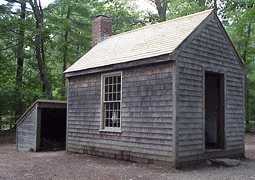 "Design" versus "Creation"
Who are the Customers of Intelligent Design? A Google Search for "Unlocking the Mystery of Life" or "Icons of Evolution" and "Darwin's Black Box" shows that the main use for such videos is for Christian Apologetics. The majority of links for these videos are from Christian websites and Creation Science ministries.
Walter ReMine is a Fellow of the Discovery Institute, and an Assertive Creationist. I had to check with Mark Edwards to see if he was in fact a Fellow with the Discovery Institute. (He is.)
Try logging in to www.creation-science.com - this directs browsers directly to the site of the domain name owner, Access Research Network (an ID site).
Creationism (represented by Michelangelo's Sistine Chapel painting of God touching Adam) is just like Intelligent Design (represented by the Discovery Institute's former logo, showing the Sistine Chapel God, but touching DNA instead of Adam). Both are based on a Super-Natural Being or Beings who "Poof" Things Into Existence (Adam & Eve, DNA, Bacterial Flagellum, etc.)
| | |
| --- | --- |
| Creationism | |
| Intelligent Design | |

IDers would have us think that any criticism of Darwin is criticism of "evolution."
IDNet-NM quotes paleontologist Robert Carroll on "... how wrong Darwin was in extrapolating the pattern of long-term evolution from that observed within populations and species."
But, what does Robert Carroll really think of evolution? "Most important, all organisms are linked to one another by a common genetic heritage. All the millions of living species are the product of continuous evolutionary change since their origin from a common ancestry more than 3.5 billion years ago. ..."

ID labels evolution as Atheism for political gain... But, Many Religions are OK with Evolution. The Bible, in particular, leaves plenty of room for evolution or other natural processes: Isaiah 55:8, 9 "For my thoughts [are] not your thoughts, neither [are] your ways my ways, saith the LORD. For [as] the heavens are higher than the earth, so are my ways higher than your ways, and my thoughts than your thoughts."
The fact that IDnet-NM, Rev. Brickley and others insist that "theistic evolution" is nonsensical, or illogical, an oxymoron, etc. indicates that "ID" is Based on Religious Beliefs about just what God Should or Shouldn't Do. Teaching that evolution is atheism infringes on religious freedom.

The "No Child Left Behind" Education Act does not call for the teaching of "Intelligent Design." ... The Santorum Language does not Appear in the Final Version of the Education Bill ... only in the explanatory report of the conference committee.
The NCLB law itself contains strict prohibitions against the federal government mandating academic achievement standards. "Part I ... prohibits the federal government from mandating specific instructional content, academic achievement standards and assessments, curriculum, or program of instruction...."

Myth #5: Historical Sciences are Different than Experimental Sciences
IDnet-NM declares that "The development of modern theories of physics and chemistry are based on experimental science where scientists can make direct observations in nature ... the study of historical events and processes introduces special problems for scientists because the events and processes themselves cannot be directly observed and experiments cannot be conducted to evaluate hypothesized cause-and-effect relationships. Biological evolution is a historical science. ..."
Now, if no one witnesses a given murder, and it can't be "repeated" in a lab, should the suspect be freed? Certainly NOT, if there is evidence linking the suspect to the crime (fingerprints, DNA, hairs, and all that CSI stuff - the more the better).
"Every new fossil found, every newly discovered plant or animal, every anatomical or molecular comparison of various life forms, is a 'repeat observation' of evolution." D. Thomas, "Bad Science Sneaks Into Schools," Albuquerque Journal, August 31, 1996.

Myth #4: All Major Forms Appear Abruptly in the Cambrian Explosion
J. Wells states that "...according to the fossil record all the major types of animals appeared abruptly about 550 million years ago... This 'Cambrian explosion' of living things contradicts the branching-tree pattern predicted by Darwin's theory."
However, these "major types" of animals don't include amphibians, reptiles, birds, and mammals, which all came into being hundreds of millions of years after the Cambrian explosion, with extant fossil records showing common descent. Wells wrote me on 4-21-99, saying "I used 'major types' instead of 'phyla' because of the audience I was addressing... As you correctly point out, the various classes of vertebrates arose later; but the chordate phylum is represented in the Cambrian fauna."
Plus, new work shows complex life well before the Cambrian (Chen, J-Y., Bottjer, D. J., Oliveri, P., Dornbos, S. Q., Gao, F., Ruffins, S., Chi, H., Li, C.-W., and Davidson, E. H. 2004. "Small Bilaterian Fossils from 40 to 55 Million Years Before the Cambrian." Science 305(5681):218-222, 9 July 2004) and transitional forms within the Cambrian (Shu, D.-G., Conway Morris, S., Han, J., Zhang, Z.-F., and Liu, J-N, 22 July 2004, "Ancestral echinoderms from the Chengjiang deposits of China," Nature 430:422-428; argues that Vetulocystis represents an intermediate form between primitive tailed, gilled worms (hemichordates) and echinoderms (e.g., sea urchin).

Myth #3: DNA/Protein Sequences are like "Coded Human Language"
Here is a memorable English sentence at 20%, 50% and 95% similarity to the actual.
20% JNWOE BM XQIFGFDN QR MXLX UYZK LO ASBJ, BHMG MGC PLYFEWL FUWLULA YKMHTL YNLQ QNXANWFTYU MHNMIBON ZF KDV UBIRIWK WPZP T YUQ HFXOC CT XQZW AZK
50% TOSSE CS GVOYDHJX WM AHVK VIEW QF LMYO, NIWX HTK BPEPBAQ OBWETP, MAHANK BDUY ORISFNSRPU FRNATDEE TY THB AGUATSM GNJO R FCH FKIRF XR IRTO ONB
95% THEBE CS GRARDEUR IN THIS VIEW YF LIFE, WITH ITS SUVERAL POWERS, HAQING BEEC ORIGINALLY BREATHED BY THE CREATOR INTO A FEW FORMS OR INTO ONE
The 20% and 50% versions are not intelligible, in contrast to proteins, for which 20% similarity can be enough to produce an identical function. The cytochrome c proteins of humans are only 50% similar to those of yeast, yet function perfectly when genetically engineered into yeast. DNA is unlike any designed human language.

Meyer, in Proc. Biological Society of Washington 117(2):213-239, argues that "Many scientists and mathematicians have questioned the ability of mutation and selection to generate information in the form of novel genes and proteins. Such skepticism often derives from consideration of the extreme improbability (and specificity) of functional genes and proteins." (p. 218). But, "Meyer's Hopeless Monster" (Elsberry et. al, Panda's Thumb) notes "Meyer missed the recent paper in Current Opinion in Genetics and Development with the unambiguous title, 'Evolution of novel genes.' The paper and 183 related papers can be found here. ... [for example,] Patthy, L. (2003). 'Modular assembly of genes and the evolution of new functions.' Genetica 118(2-3): 217-231. ..."
And new work specifically takes on Irreducible Complexity: Science, Vol 305, Issue 5689, 1433, 3 September 2004, Evolution of Coral Pigments Recreated, Juan A. Ugalde, Belinda S. W. Chang, Mikhail V. Matz. "The more complex red color evolved from green through small incremental transitions (a stepwise accumulation of improvements), each identified in our experiments by ancestral gene reconstruction. This mode of evolution has been anticipated since Darwin, but has only recently been demonstrated in computer simulation experiments." [See companion article, "New Work Documents the Evolution of Irreducibly Complex Structures," on the NMSR site!]
Dembski's NFL (No Free Lunch) claim, "Evolutionary (Genetic) Algorithms perform no better than Chance (when averaged over all possible fitness functions)" has been found irrelevant by many reviewers. Evolution isn't averaged over all possible environments - why should genetic algorithms? See Also Lenski, R.E., C. Ofria, R.T. Pennock & C. Adami, 2003. The evolutionary origin of complex features. Nature 423: 139-144, 8 May 2003, for a demonstration of how such algorithms do produce complexity.

Taking "cuts" isn't fair, but IDers are trying to cut into the line that starts with the proposal of a new "scientific idea," and ends in its acceptance for teaching in schools.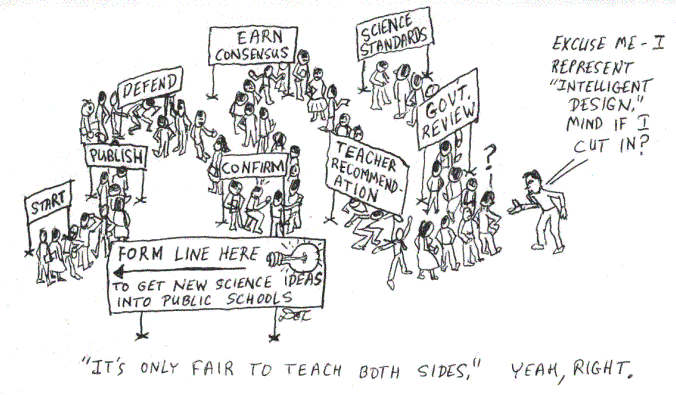 Conclusion
"Intelligent Design" is simply a modified version of Creationism.
But, even with the references to a creator or creation carefully sanitized, ID remains a collection of pseudoscientific arguments, lacking real substance, that are no more deserving of presentation in science classes than are Apollo Hoax claims.

Resources:
A Workshop on "How Will New Mexico's New Science Standards Affect the Teaching of Evolution?" (April 14, 2004)
Understanding Evolution: a New Website for Teachers
Coalition for Excellence in Science and Math Education
The National Academy of Science, "Teaching About Evolution and the Nature of Science"
National Center for Science Education

Inside the conference, during my presentation, I was asked "what will it take to stop calling us (IDer's) creationists?" Outside, the Creation Research Society sold books, including the ID Favorite "Of Pandas and People." CD's of creationist symposia, and copies of creationist books like Walter ReMine's "The Biotic Message" were also available.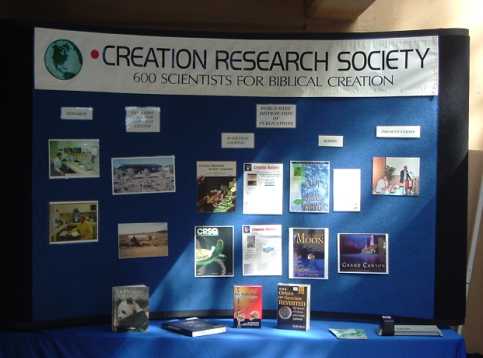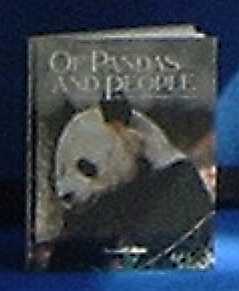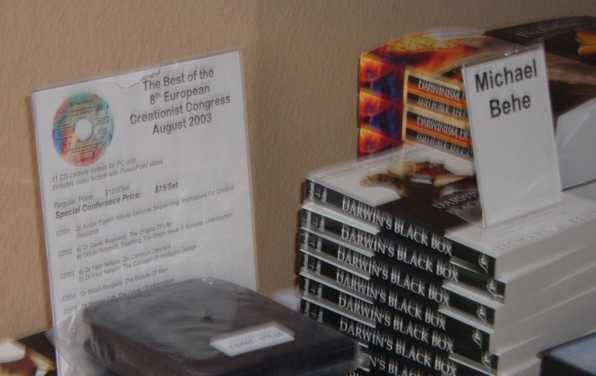 These images were taken in the registration area for the Darwin, Design and Democracy V conference at UNM on September 25, 2004.

Read my Panda's Thumb Blog on the Conference, "I was a Token Darwinist," here.