New Mexicans for Science and Reason

Sandia National Laboratories says that the Intelligent Design Network (IDNet-NM/Zogby) "Lab Poll" is BOGUS!
by Dave Thomas : nmsrdaveATswcp.com (Help fight SPAM! Please replace the AT with an @ )

August 25, 2003 UPDATE - LOS ALAMOS WEIGHS IN
August 22, 2003 UPDATE - RENICK RENEGES

The Intelligent Design organization IDNet-NM had the Zogby Polling Firm perform a survey at New Mexico's national labs and universities. In a July 28th, 2003 letter sent to all members of the State Board of Education (SBE), and also posted on the IDNet-NM website at http://www.nmidnet.org/PRESS%20RELEASE.doc, (if you get a username/password request, just click CANCEL to get right to the page!), IDNet-NM states
"The Intelligent Design Network, inc., New Mexico Division (IDnet-NM), announced the results of two polls conducted recently by Zogby International regarding attitudes in New Mexico concerning the teaching of evolution and intelligent design in New Mexico's public schools. The first poll was of parents of schoolchildren K-12 while the second poll focused on the scientific community and included New Mexico's national labs and universities. ... In regard to the teaching of evolution in New Mexico, the overwhelming majority of respondents, both parents and laboratory scientists, favored teaching the evidence both for and against evolution by a factor of over 4-to-1. In regard to teaching intelligent design, parents and laboratory scientists favored teaching intelligent design by an overwhelming factor of 5-to-1. ..."
However, many serious problems have been found with the poll. David Harris of the American Physical Society, in an article titled "'Intelligent Design'-ers launch new assault on curriculum using lies and deception," (see http://blogs.salon.com/0001092/2003/07/30.html ), says quite a bit about the vagueness of the questions, and why even pro-evolution scientists might be inclined to answer "Yes" to such soft-sell declarations. Harris adds this zinger: "Perhaps the greatest problem with the survey is the response rate. Of the 16,000 employees, a mere 248 replied. This amounts to a 1.5% response rate, far lower than any other large scale survey I have heard of. Statisticians I have spoken with suggest that you need more than about a 40% response rate before you might begin to consider a survey valid. Even so, the low response rate by itself is not necessarily enough to destroy the validity of the survey. But there is no evidence to suggest that the 248 respondents were representative of the 16,000 employees. There are ways to check that the responsive sample is similar in characteristics to the total sample but none of that data was obtained and there are plenty of reasons to believe that the responders were not representative. Similarly, only 31 employees from universities completed the survey, out of the 500 asked to respond. At least the large uncertainty in the data obtained was mentioned but in the tabulated data, the sample size and what the presented percentages mean in terms of absolute numbers is not presented. This flaw is enough on its own to completely destroy the validity of the survey. ..."
And, in a follow-up article titled "'Intelligent Design'-ers' deception deepens" (see http://blogs.salon.com/0001092/2003/07/31.html), Harris notes "I previously reported that the IDers claimed to send a survey to 16,000 laboratory scientists at Los Alamos and Sandia National Laboratories. I spoke with representatives of the labs today and discovered that there are something like 14,000 total staff and only about half of them are laboratory scientists. Interestingly, the lab representatives have so far been unable to find anybody who received the survey. Seeing as we couldn't find anybody who had received the survey, we contacted Zogby, the polling firm that conducted the survey for IDnet, to check that the survey really existed. Zogby confirmed that they did the survey but gave us the following information: 'During the period June 26 - July 9, 2003 we received 402 completed surveys, giving a margin of error of +/- 5%.' But we compare this with the statement by IDnet: 'Two-hundred forty-eight scientists responded as follows: 103 scientists at Sandia National Labs, 114 scientists at Los Alamos National Labs, and 31 at the universities.' So what happened to the other 154 responses? This is a very serious issue because the discrepancy is so large that it could shift the results in any way that you desired. And if you are a group with a long history of fudging data to your purposes, why would we assume anything but that the results were biased toward the viewpoint that IDnet wanted to push? Although not damning, this is all very suspicious and it certainly further damages the validity of the results. ..."
On August 13th, 2003, the president of Sandia National Laboratories, C. Paul Robinson, denounced the IDNet-NM survey, calling it "bogus," and affirming that Sandia National Laboratories "did not participate in the Intelligent Design Network's survey and do not support its conclusions." Graphic and text versions of the Sandia statement follow.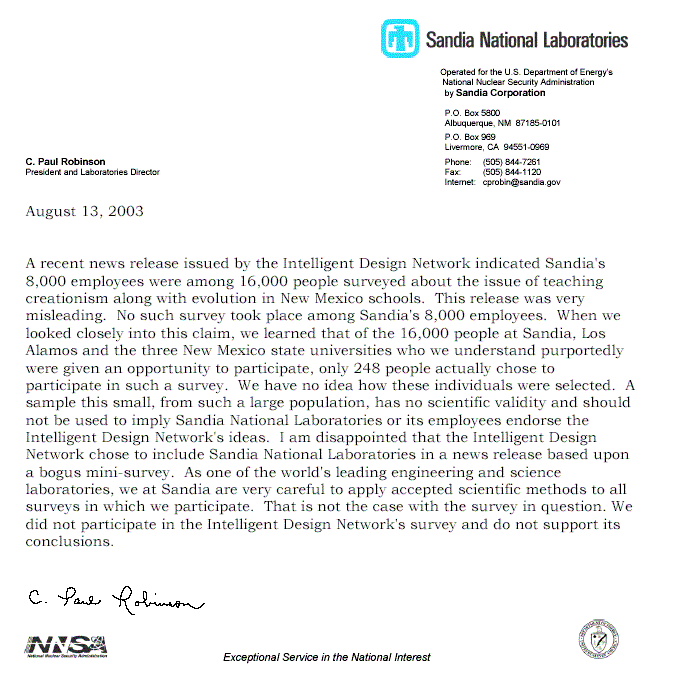 Text Version
Sandia National Laboratories
Operated for the U.S. Department of Energy's
National Nuclear Security Administration
by Sandia Corporation
P.O. Box 5800
Albuquerque, NM 87185-0101
P.O. Box 969
Livermore, CA 94551-0969
C. Paul Robinson Phone: (505) 844-7261
President and Laboratories Director Fax: (505) 844-1120
Internet: cprobinATsandia.gov
August 13, 2003
A recent news release issued by the Intelligent Design Network indicated Sandia's 8,000 employees were among 16,000 people surveyed about the issue of teaching creationism along with evolution in New Mexico schools. This release was very misleading. No such survey took place among Sandia's 8,000 employees. When we looked closely into this claim, we learned that of the 16,000 people at Sandia, Los Alamos and the three New Mexico state universities who we understand purportedly were given an opportunity to participate, only 248 people actually chose to participate in such a survey. We have no idea how these individuals were selected. A sample this small, from such a large population, has no scientific validity and should not be used to imply Sandia National Laboratories or its employees endorse the Intelligent Design Network's ideas. I am disappointed that the Intelligent Design Network chose to include Sandia National Laboratories in a news release based upon a bogus mini-survey. As one of the world's leading engineering and science laboratories, we at Sandia are very careful to apply accepted scientific methods to all surveys in which we participate. That is not the case with the survey in question. We did not participate in the Intelligent Design Network's survey and do not support its conclusions.
C. Paul Robinson

After the Sandia letter knocking IDNet-NM's "Bogus Poll" came out, Joe Renick stated that IDNet-NM would STOP using that poll. From John Fleck's article "Anti-Evolution Poll Called Bogus" (Sunday, August 17, 2003): "Renick said Friday [August 15th] his organization plans to stop using the poll, saying it "is turning into a distraction from the really important business of the science standards."
Source: http://www.abqjournal.com/news/state/74133news08-17-03.htm
HOWEVER, as of a week later (August 22nd, 2003), the poll is still posted, as it appeared originally, and with NO disclaimers, on the IDNet-NM web site. (http://www.nmidnet.org/polling_data.htm, and http://www.nmidnet.org/Press%20Release%201.doc ).
[UPDATE August 11th, 2006 - the IDnet-NM polling document has since been moved, from http://www.nmidnet.org/polling_data.htm, to a new location at http://www.nmidnet.org/polling.html. This page is prominently linked from the IDnet-NM Home Page at http://www.nmidnet.org/ as the ninth menu option along the left side of every IDnet-NM page, "Polling Data." Like the original document, the new "Polling Data" web page still links to the Word document with the results of the bogus Sandia/Los Alamos "poll".]
FURTHERMORE, in a letter sent to all State Board of Education members on Tuesday, August 19th, Renick says IDNet will stop using the survey, yet still defends the results, saying "The math is the math." Here are some excerpts from Renick's August 19th letter:
"... I understand that the results of this survey represented bad news for some folks. In the absence of any other ideas, attempting to discredit the survey and its sponsor is the last resort. In the face of the facts, it is the only resort. It is unfortunate that Dr. Robinson was misinformed as to the nature of this survey and implicated in this freak show.

As I have stated before, in the interest of keeping the focus, IDnet will make no further use of the results of this survey in our efforts to promote integrity in science education. Some will take that as an admission to the charges of fraud. So be it. Our purposes and intentions are well-documented and bear no resemblance to the misrepresentations of those who are opposed to our purposes. As I said before, we believe that the results of the laboratory survey are an interesting indicator of attitudes of scientists in the national labs but are not necessarily representative of the entire scientific population.

The undisputed facts are that Zogby conducted a survey. We got the results. We published them. We did not hand-pick the sample as charged. The math is the math. There are legitimate questions about sample size but the effects of sample size are rigorously defined in mathematical terms (margin of error). One can speculate as to whether or not an on-line poll is truly objective. You can do the same about a telephone survey. Read the Zogby response for their position. They are the experts. ..."
MEANWHILE, the story grows more bizarre by the minute. Former SBE member and Sandia physicist Dr. Marshall Berman conducted his own informal poll of Sandia and Los Alamos scientists, and this is what he found:
Evaluation of Intelligent Design Poll of Lab Scientists and NM Universities

Dear members of the New Mexico State Board of Education,

I was shocked when I first learned of the surveys conducted by IDnet-NM. I spent 32 years at Sandia as a scientist, supervisor and manager and encountered perhaps a thousand scientists and engineers over that period. I can count on one hand the number of Intelligent Design creationists I knew in that period. It was clear to me that more information was needed to understand and assess the IDnet-NM survey.

I contacted staff at the American Institute of Physics and requested their assistance in learning how the poll was conducted by Zogby International. In addition, I conducted my own poll of several hundred lab scientists, a few non-science employees, and many university professors. The results of this research are presented below. The conclusion is that the IDnet-NM poll is extremely misleading and biased, not statistically significant or even valid, and their conclusions are not supported by their own study or data.

Sincerely,

Dr. Marshall Berman
Past Vice President, New Mexico State Board of Education
Sandia National Laboratories, retired
Source: http://www.cesame-nm.org/Standards.html, specifically
http://www.cesame-nm.org/announcement/poll.html
Here are some excerpts from Dr. Berman's analysis, available here:
http://www.cesame-nm.org/announcement/IDnet_Poll_Eval.pdf
There are about 16,000 total employees at SNL and LANL, less than half of whom might be called scientists and engineers. IDnet-NM did NOT send the survey to all of the labs staff. Furthermore, treating all the employees as scientists (as they do later in their letter) would be false. And even if all the employees were surveyed – which they were not – the return rate would be an insignificant 1.4%.

Using the information available from two NM science organizations, I requested survey data from several hundred scientists at SNL, LANL, UNM, NMSU, and NMT. 61 direct responses were received and 81 indirect (from responders polling their own colleagues and peers). Of these 142 responses, 137 (96%) never received the ID poll. Not a single Sandia scientist or employee acknowledged receiving the survey. One LANL scientist received the e-mail survey and replied in opposition to ID; one other LANL engineer was said to have received the survey (indirect). Two people from NMSU and one from UNM said they received the survey and replied negatively. So of the five scientists who received the survey, all of them opposed ID. Yet IDnet-NM reports an ID approval rate of 76-79% for "NM scientists" and 45-61% for "NM Universities." ... it is quite clear that IDnet-NM selected the people to be polled and provided those email addresses to Zogby. We have no information as to how those people were selected. ... The conclusions stated by IDnet-NM are not supported by the poll, the poll is falsely portrayed, statistically insignificant, highly biased, and presents a completely false picture of the views of National Labs and university scientists.
I have personally interviewed Sandia scientists were were supposedly IN RENICK'S LIST of e-mail addresses sent to Zogby; these scientists did NOT ever receive the poll from Zogby.
The heck with Denmark! Something smells really, really bad right here in New Mexico!

Here's the letter Los Alamos National Labs director Peter Nanos sent to IDnet-NM, as well as SDE/SBE members. Nanos writes "The claims made in that [IDnet-NM] news release is misleading. There is no evidence that all of our technical and scientific staff members receiveed the so-called 'poll,' nor is there assurance that those who responded were actually scientific or technical staff members. .... I would appreciate it if you would refrain from associating the name of Los Alamos National Laboratory with your effort in any and all materials. ..."