New Mexicans for Science and Reason
presents

NMSR PUZZLES


Send Puzzle Answers To:
WebMaster Dave Thomas, nmsrdaveATswcp.com (Help fight SPAM! Please replace the AT with an @
WHEN ARE PUZZLES UPDATED?
Since they are tied to our hard-copy newsletter and monthly meetings, look for Puzzle Updates, usually on the Friday before the Second Wednesday of each Month!
Next Puzzle Posting: September 9th (or so), 2016

AUGUST 2016 PUZZLE - "Chilling by the Box"
Submitted by Dave Thomas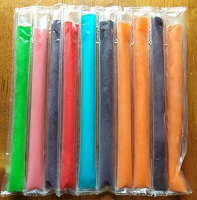 Given the solution to the July Bonus (probability that at least one adjacent pair of freeze pops has the same color, in a packet of 10 pops made with 6 colors, is ~ 0.806):
The August Bonus: In a typical box of eight packets (=80 freeze pops), what is the most likely number of packets (0-8) having at least one pair?
Hall of Fame (August Puzzle Solvers):
Paul Braterman (UK)
Brian Pasko (NM)
Alice Anderson(NM)