New Mexicans for Science and Reason
presents

NMSR PUZZLES


Send Puzzle Answers To:
WebMaster Dave Thomas, nmsrdaveATswcp.com (Help fight SPAM! Please replace the AT with an @
WHEN ARE PUZZLES UPDATED?
Since they are tied to our hard-copy newsletter and monthly meetings, look for Puzzle Updates, usually on the Friday before the Second Wednesday of each Month!
Next Puzzle Posting: December 8th, 2017

OCTOBER 2017 PUZZLE - "Too Early for Sunset?"

Submitted by Dave Thomas

In the official "Flat Earth" model, the Sun is 40 miles in diameter, and moves above the flat earth at a height of 3,000 miles. On the summer solstice, observers on the Tropic of Cancer (23.50oN) will see the sun directly overhead at noon.
Therefore, on the solstice, the Flat Earth Sun will move in a circle 3000 miles above the Tropic of Cancer, and will be directly south of New Orleans, and a bit north of the Yucatan (latitude 23.5oN, longitude 90oW) at noon.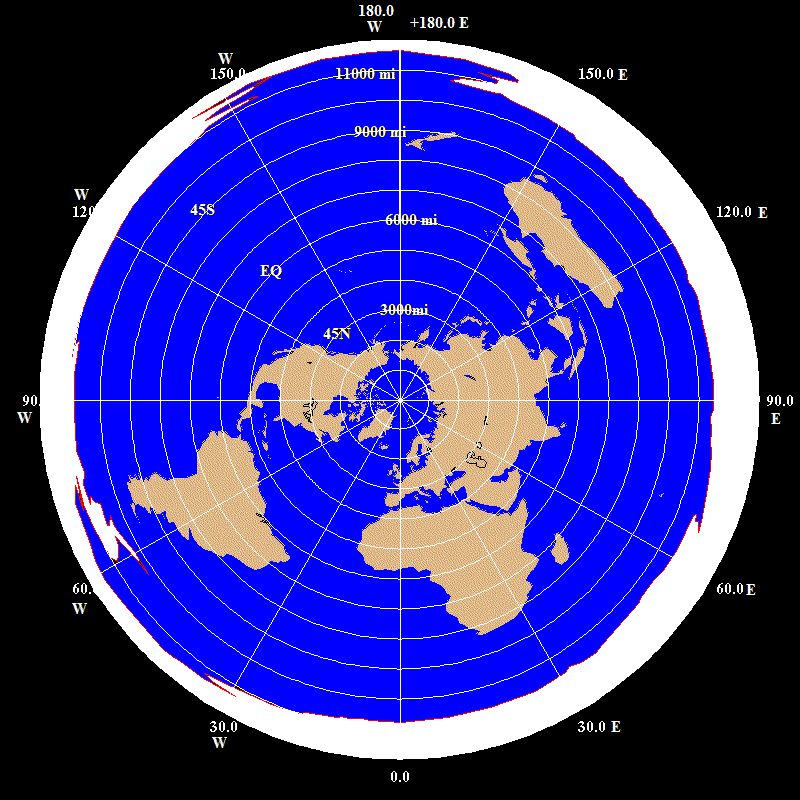 The November Bonus:Assuming that the Earth is Flat, like the map above:
What is the latitude/longitude of the Sun at 2:00 PM on the Summer Solstice?
What is the Azimuth of the Sun at 2:00 PM, as observed from New Orleans, LA?
Hall of Fame (November Puzzle Solvers):