New Mexicans for Science and Reason
presents

NMSR PUZZLES


Send Puzzle Answers To:
WebMaster Dave Thomas, nmsrdaveATswcp.com (Help fight SPAM! Please replace the AT with an @
WHEN ARE PUZZLES UPDATED?
Since they are tied to our hard-copy newsletter and monthly meetings, look for Puzzle Updates, usually on the Friday before the Second Wednesday of each Month!
Next Puzzle Posting: May 8th(or so), 2015

April 2015 PUZZLE - "Sustaining Livestock with the Joneses"
Submitted by Dave Thomas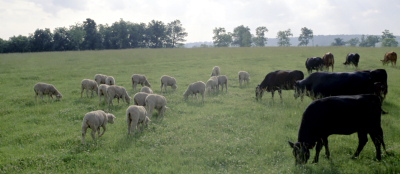 Farmer Jones owns four times as many sheep as cattle. The grass on his farm is currently 12 inches high, and grows at a rate of two inches per day.
The grass on one acre of Farmer Jones' farm can support a dozen cattle for six days, accounting for daily growth. Alternatively, one acre of Farmer Jones' farm grass can support three dozen sheep for twelve days, again accounting for growth.
The April Bonus:What is the number of cattle and sheep per acre that will allow the land to support the livestock indefinitely? (Or at least, for the entire growing season?)
Hall of Fame (April Puzzle Solvers):
Paul Braterman (UK)
Terry Lauritsen (NM)
Eric Hanczyc (WA)
Mike Arms (NM)
Eiichi Fukushima (NM)