New Mexicans for Science and Reason
presents

NMSR PUZZLES


Send Puzzle Answers To:
WebMaster Dave Thomas, nmsrdaveATswcp.com (Help fight SPAM! Please replace the AT with an @
WHEN ARE PUZZLES UPDATED?
Since they are tied to our hard-copy newsletter and monthly meetings, look for Puzzle Updates, usually on the Friday before the Second Wednesday of each Month!
Next Puzzle Posting: August 3rd, 2018

JULY 2018 PUZZLE - "Powered Ascent"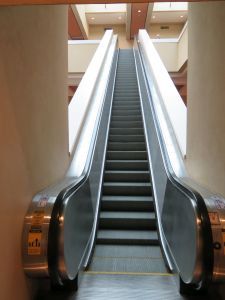 Submitted by Dave Thomas
A bored convention-goer decided to deduce how many steps were found from the bottom to the top of the up escalator in the lobby. She found that by simply standing on the same step, she would ascend to the top in 35 seconds. When she walked up the moving escalator at her normal pace, however, the ascent only took 15 seconds, with a total of 23 steps climbed.
The July Bonus: If the power was switched off, and the escalator became mere stairs, how many steps is it to the top? And how long would it take our subject to make the ascent?
Hall of Fame (July Puzzle Solvers):
Earl Dombroski (NM)
Paul Braterman (UK)
Allen Robnett (NM)
Gene Aronson (NM)
Mike Arms (NM)