New Mexicans for Science and Reason
presents

NMSR PUZZLES


Send Puzzle Answers To:
WebMaster Dave Thomas, nmsrdaveATswcp.com (Help fight SPAM! Please replace the AT with an @
WHEN ARE PUZZLES UPDATED?
Since they are tied to our hard-copy newsletter and monthly meetings, look for Puzzle Updates, usually on the Friday before the Second Wednesday of each Month!
Next Puzzle Posting: Cinco de Mayo (or so), 2017

APRIL 2017 PUZZLE - "I Hit a Sour Note!"
Submitted by Dave Thomas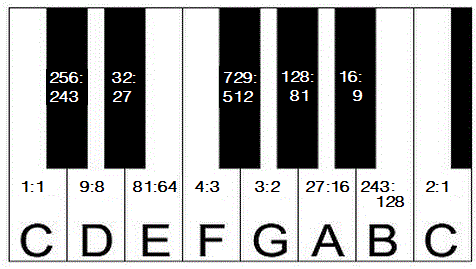 Consider the Pythagorean Scale, for which the frequency ratios to the lower C note are shown above. In the Well-Tempered Scale, on the other hand, the ratio of each note to the one preceding it is a constant 21/12.
The April Bonus: For the C-scale starting at 256 Hz, what note has the largest difference between well-tempered and Pythagorean scales? How many hertz off is it?
Hall of Fame (April Puzzle Solvers):
Rocky S. Stone (NM)
Gene Aronson (NM)
Harold H. Gaines (KS)
Alice Anderson(NM)