New Mexicans for Science and Reason
presents

NMSR PUZZLES


Send Puzzle Answers To:
WebMaster Dave Thomas, nmsrdaveATswcp.com (Help fight SPAM! Please replace the AT with an @
WHEN ARE PUZZLES UPDATED?
Since they are tied to our hard-copy newsletter and monthly meetings, look for Puzzle Updates, usually on the Friday before the Second Wednesday of each Month!
Next Puzzle Posting: October 7th (or so), 2016

SEPTEMBER 2016 PUZZLE - "A Pair of Swingers"
Submitted by Dave Thomas
A rigid 12-inch ruler with a tiny hole at one end is hung on a nail, and allowed to swing back and forth. It is hung alongside four simple pendulums, of lengths 6, 8, 9 and 12 inches.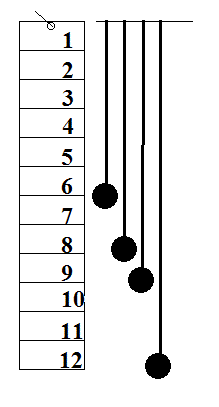 The September Bonus: Which one of the four simple pendula has the same period as the ruler??
Hall of Fame (September Puzzle Solvers):
Rocky S. Stone (NM)
Keith Gilbert (NM)
Terry Lauritsen (NM)