New Mexicans for Science and Reason
presents

NMSR PUZZLES


Send Puzzle Answers To:
WebMaster Dave Thomas, nmsrdaveATswcp.com (Help fight SPAM! Please replace the AT with an @
WHEN ARE PUZZLES UPDATED?
Since they are tied to our hard-copy newsletter and monthly meetings, look for Puzzle Updates, usually on the Friday before the Second Wednesday of each Month!
Next Puzzle Posting: March 4th(or so), 2016

FEBRUARY 2016 PUZZLE - "Gardening Time"
Submitted by Dave Thomas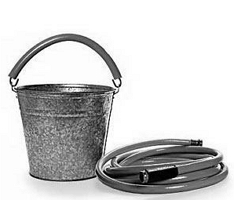 You are busy in the garden, whipping up a batch of fertilizer for the plants. You need to measure exactly five gallons of water for the mix, but all you have at hand are two buckets (one has a three-gallon capacity, while the other holds seven-gallons). Neither bucket is graduated with gallon marks. You can get as much water as you you need from the hose, and any excess water can be used in the garden. Being clever, you quickly realize a method for using the two buckets to get exactly five gallons of water.
The February Bonus:How many gallons of water need to be supplied from the hose? And how many excess gallons of water will you pour into the garden?
Hall of Fame (Febuary Puzzle Solvers):
Keith Gilbert (NM)
Terry Lauritsen (NM)
Paul Braterman (UK)
Eric Hanczyc (WA)
Janell Woodbury (NM)
Alice Anderson(NM)