New Mexicans for Science and Reason
presents

NMSR PUZZLES


Send Puzzle Answers To:
WebMaster Dave Thomas, nmsrdaveATswcp.com (Help fight SPAM! Please replace the AT with an @
WHEN ARE PUZZLES UPDATED?
Since they are tied to our hard-copy newsletter and monthly meetings, look for Puzzle Updates, usually on the Friday before the Second Wednesday of each Month!
Next Puzzle Posting: June 3rd (or so), 2016

MAY 2016 PUZZLE - "The Envelope, Please?"
Submitted by Dave Thomas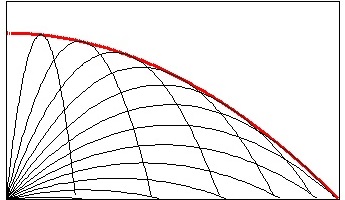 You have a cannon, which can be controlled by its tilt angle and by the muzzle velocity v0. Assume that the muzzle velocity v0 is kept constant, and that the tilt angle can be varied, from shooting straight up, to shooting horizontally, as shown in the figure above.
The May Bonus:The thicker line in the figure above shows the envelope of all the positions the cannon can reach at constant muzzle velocity. What is the equation of this envelope?
Hall of Fame (May Puzzle Solvers):
Eric Hanczyc (WA)
Brian Pasko (NM)