New Mexicans for Science and Reason
presents

NMSR PUZZLES


Send Puzzle Answers To:
WebMaster Dave Thomas, nmsrdaveATswcp.com (Help fight SPAM! Please replace the AT with an @
WHEN ARE PUZZLES UPDATED?
Since they are tied to our hard-copy newsletter and monthly meetings, look for Puzzle Updates, usually on the Friday before the Second Wednesday of each Month!
Next Puzzle Posting: December 6th, 2020

NOVEMBER 2020 PUZZLE - "How Far the Moon"
Submitted by Dave Thomas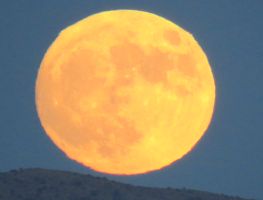 As this diagram shows, a person viewing the full moon at midnight sees the moon slightly larger than if it was viewed just after rising (dawn) or just before setting (dusk). This is because the moon over the horizon is about the radius of the earth farther from the viewer than is the overhead full moon at midnight.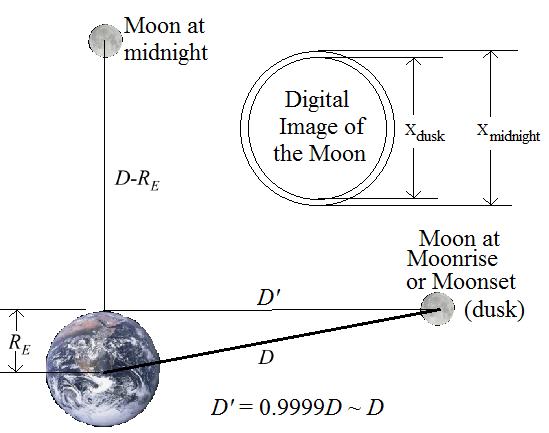 The November Bonus:Two images of the full moon (one taken at midnight, one at dusk) have been obtained from a digital camera, with the exact same focal length and zoom settings.
If the diameter of the digital image of the full moon at midnight is 2536 pixels, and that of the moon at dusk is 40 pixels smaller, what is the distance to the moon, as a multiple of the radius of the Earth, RE? How does this compare to the actual value? (There is some inaccuracy in measuring diameters from the photos). [Based on a true story.]
Hall of Fame (November Puzzle Solvers):