New Mexicans for Science and Reason
presents

NMSR PUZZLES


Send Puzzle Answers To:
WebMaster Dave Thomas, nmsrdaveATswcp.com (Help fight SPAM! Please replace the AT with an @
WHEN ARE PUZZLES UPDATED?
Since they are tied to our hard-copy newsletter and monthly meetings, look for Puzzle Updates, usually on the Friday before the Second Wednesday of each Month!
Next Puzzle Posting: May 5th, 2019

APRIL 2019 PUZZLE - "Co-ed Debates"
Submitted by Dave Thomas
In the primary election, nine male and seven female candidates are running for president. Rather than have all 16 candidates try to debate at once, the League of Human Voters has decided to hold four debates, with just four candidates in each event. The debate panel foursomes are to be chosen randomly.
The April Bonus:
How much more likely is a balanced panel (two male/two female) than an all-male panel? And how much more likely is an all-male panel than an all-female panel? (Ratio of probabilities for both.)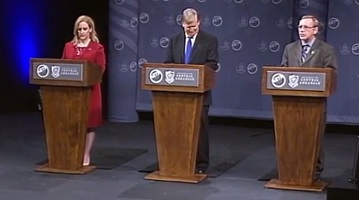 Hall of Fame (April Puzzle Solvers):

Earl Dombroski (NM)
Allen Robnett (NM)
Mike Arms (NM)