New Mexicans for Science and Reason
presents

NMSR PUZZLES


Send Puzzle Answers To:
WebMaster Dave Thomas, nmsrdaveATswcp.com (Help fight SPAM! Please replace the AT with an @
WHEN ARE PUZZLES UPDATED?
Since they are tied to our hard-copy newsletter and monthly meetings, look for Puzzle Updates, usually on the Friday before the Second Wednesday of each Month!
Next Puzzle Posting: January 3rd (or so), 2014

December 2013 PUZZLE - "Plumb Strange"
Submitted by Dave Thomas
Consider an irregular flat surface such as pictured below. To find the center of mass of the object, three plumb lines have been drawn, but the measurements weren't exact, and the three lines do not intersect at a single point. Instead, the three intersections lines form a triangle as shown.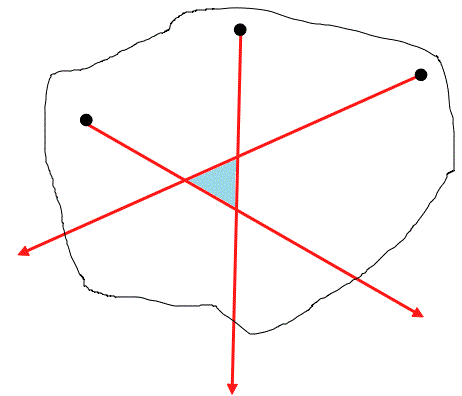 The December Bonus:Assuming that the probability of finding the true center of mass on either side of each line is ½, what is the probability that the true center of mass is actually located within the triangle?
Hall of Fame (December Puzzle Solvers):