Instructions for the 'Super Secret Word'
for Hidden Messages by Dave Thomas


Solve This Week's Socorro Stumper (from El Defensor Chieftain)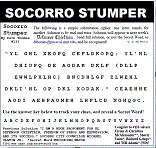 Solve This Month's Desert Dumbfounder (from Desert Exposure)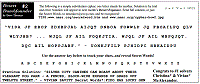 The SUPER SECRET WORD and the ANSWER KEY
To solve for the Super Secret Word in "Hidden Messages by Dave Thomas", or "Socorro Stumper" in El Defensor Chieftan, first write down the alphabet, A-Z, as shown below, if none is provided on the puzzle.
This will become your "Answer Key."
As you decipher letters in the puzzle, keep track of them on this Answer Key, as shown below. It doesn't matter if you jot your guesses below the cryptic text (as shown here) or above it (not pictured), as long as you are consistent for both the puzzle and the Answer Key.
While you are building this reference guide for the puzzle, you will ALSO reveal the "Super Secret Word," a puzzle within a puzzle!