Ray Rogers, July 21, 1927 - March 8, 2005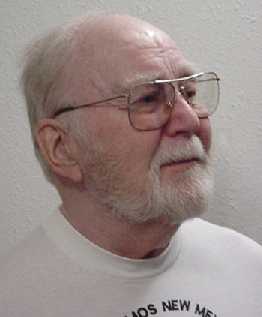 For several of us in NMSR, Ray Rogers was a friend. He was a Fellow at Los Alamos National Laboratory, and tried to be an excellent, open minded scientist in all things. In particular, he had no pony in the "Shroud of Turin" horserace, but was terribly interested in making sure that neither proponents nor skeptics let their scientific judgment be clouded by their preconceptions. He just wanted to date and analyze the thing. He died on March 8th from cancer. He was a good man, and tried his best to do honest science.
- Kim Johnson

Ray's Obituary
Raymond N. Rogers of Los Alamos died March 8, 2005 after a long illness. He was born July 21, 1927 in Albuquerque, NM. He spent his youth in California and, after his father died, he contributed to the family income as a trumpeter with local bands. He also became chief chemist at an oil refinery at age 15 when many positions were left open during the war. In 1945 he enlisted in the U.S Navy and served as a radar technician during World War II. The GI Bill allowed Ray to complete his education at the University of Arizona in chemistry. His expertise in thermal analysis brought him to the Los Alamos Scientific Laboratory in 1951. He became a group leader of an explosives research-and-development group there and was elected Laboratory Fellow in 1981. He later worked for the International Technology division, retiring in 1988. He served on the Department of the Air Force Scientific Advisory Board from 1987 until 1992 with the equivalent rank of Lt. General, receiving their Distinguished Service Award. He received other awards and recognitions from LANL and professional organizations. He was granted a sabbatical in 1968 to pursue post-graduate studies in archaeology.
He was appointed Director of Chemical Research for the Shroud of Turin Research Project in 1978, applying thermal methods to the study of this relic. In recent years, he further researched material relevant to the dating of the Shroud, publishing his findings in Thermochimica Acta. He has also published popular articles on dogs and firearms as well as papers on chemistry, archaeology/anthropology, soil science, and energy. He has served as an expert witness on several legal actions.
Dogs, particularly Maud and Brenda, were his friends as well as his teachers throughout his life. Since his retirement, Ray was an active member of Mountain Canine Corps and participated in many search and rescue efforts. Other major interests were backpacking, hiking, photography, marksmanship, archery, music, and ham radio.
He was preceded in death by his parents and son Scott. He is survived by his beloved wife Joan; daughter Amy Canzona and her husband Tony; step-daughters Dawn Janney and Lauren McGavran and her husband Harry; grandson Kenneth; great-grandson Mark; cousin Bob and other family members; many very special friends; and coonhound Clancy.
A memorial service will be held in Los Alamos on June 11, 2005. Should friends desire, memorial contributions may be made to any reputable animal shelter or ethical group that promotes interracial understanding.

A classic Ray Rogers essay on "the Classical Scientific Method Does not Mean Atheism," from 1997:
http://globalflood.org/letters/rogers170197.html