New Mexicans for Science and Reason

NEWS OF THE MONTH

October 8th, 2014 NMSR Meeting - an Evening of Magic, Relativity, and Bat Boy!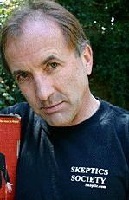 At our October meeting, longtime NMSR member/ dabbler in the black arts Bill Fienning will demonstrate his latest project, the "Re-Animator," which is intended to bring deceased animals back to life. Dave Thomas will also reveal the Oracle of Bat Boy, and will present his latest movies on making Relativity make Sense. There will be a few other surprises, so don't miss this meeting!
7 PM Wednesday, October 8th at the NM Museum of Natural History and Science

NEW POSTINGS AT NMSR...

OCTOBER 2014 PUZZLE - "Who got my jersey?"
http://www.nmsr.org/puzzles.htm

OCTOBER 2014 NMSR REPORTS ON-LINE - News, Puzzles, Radford on Loretto Staircase, Skeptiverse Haiku, MORE!
http://www.nmsr.org/pdfnews.htm

"Very First Edition of NMSR Newsletter, from 1990!



Can't find the story you were looking for??
Try the 2013 News Page, or pages for 2012, 2011, 2010, 2009, 2008, 2007, 2006, 2005, 2004, 2003, 2002, 2001, or 2000.