New Mexicans for Science and Reason

NEWS OF THE MONTH

It's a YouTube 9/11 Truth Debate!
NMSR is involved in a YouTube Debate on "What Caused the Collapses of the Twin Towers on 9-11-2001." Michael Fullerton of Vernon 9/11 Truth, based in British Columbia, went first in June. On August 4th, Dave Thomas posted his first installment in the debate, a 15-minutes video containing footage of physics experiments, controlled demolitions, a re-creation of Sherman's neckties, and more.
Dave Thomas's first installment is here:
Vernon 9/11 Truth's Opening Statement and Mr. Fullerton's opening remarks.
NMSR Debate Intro
Logical Fallacies Poster (it'll come in handy!)
Each group gets a short rebuttal; Mr. Fullerton's rebuttal is up next. Stay tuned to YouTube channel theNMSR for some 9/11 Truth Debate Action!

Ben Radford Speaking Tour...
Local investigator and author Benjamin Radford will be giving a talk and book signing for his new book Mysterious New Mexico: Miracles, Magic, and Monsters in the Land of Enchantment on Thursday August 14 at 7 PM at Bookworks (4022 Rio Grande Blvd., Albuquerque). The book, recently published by the University of New Mexico Press, includes over a dozen first-hand investigations into strange and mysterious events in New Mexico, including ghost stories, UFO crashes, mysterious crystal skulls, miraculous healings, monsters, La Llorona reports, and much more. Radford is author or co-author of seven books including Tracking the Chupacabra: The Vampire Beast in Fact, Fiction, and Folklore and Scientific Paranormal Investigation: How to Solve Unexplained Mysteries (from Rhombus Books of Corrales). He has appeared on CNN, the Learning Channel, National Geographic, Discovery Channel, Good Morning America, ABC News, BBC, and many others.
Ben will also do signings at these events: Saturday August 16 from 1 to 3 PM at Treasure House Books & Gifts (2012 S. Plaza St., in Old Town, Albuquerque); Thursday August 21 at 7 PM at the Corrales Community Library (84 West La Entrada, Corrales NM); and Saturday October 25 at 1 PM at Barnes & Noble-Coronado (6600 Menaul Blvd. NE, Albuquerque).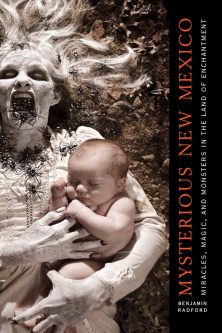 Hobbits Get the Boot?...
The NY Times reported on Aug. 5th on a paper published the day before in the Proceedings of the National Academy of Sciences. "So far, searches in other caves on Flores [Indonesia] and elsewhere have failed to yield the additional bones, especially more skulls, needed to determine if LB1 is one of a kind or one of an extinct human species, Homo floresiensis [the so-called 'Hobbits']. Until then, [author] Dr. Eckhardt said, the new analysis yielded a 'less strained explanation' than adding another branch to the human family tree. The signs, he said, 'point rather clearly to Down syndrome.'."
Source: http://www.nytimes.com/2014/08/05/science/a-new-explanation-for-new-man.html?_r=0

NEW POSTINGS AT NMSR...

AUGUST 2014 PUZZLE - "The Physicist's Spouse"
http://www.nmsr.org/puzzles.htm

AUGUST 2014 NMSR REPORTS ON-LINE - NMSR 9/11 DEBATE VIDEO IS ONLINE, MORE TNR – Emotional Pseudoscience, Hobbits No More?, Puzzles, MORE!
http://www.nmsr.org/pdfnews.htm

"Very First Edition of NMSR Newsletter, from 1990!



Can't find the story you were looking for??
Try the 2013 News Page, or pages for 2012, 2011, 2010, 2009, 2008, 2007, 2006, 2005, 2004, 2003, 2002, 2001, or 2000.