New Mexicans for Science and Reason

NEWS OF THE MONTH

NMSR and the Monckton Written Debate Challenge...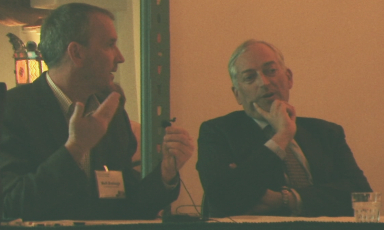 At the Third Santa Fe Conference on Global and Regional Climate Change (October 30, 2011 - November 4, 2011), NMSR's Mark Boslough (above, left) attempted to explain basic high-school-level science to Christopher Monckton (at right), whose stage name is the "3rd Viscount Monckton of Brenchley." It has been reported that Boslough came out on top by decisively debunking Monckton's false claims about CO2 in front of an audience of both scientists and climate science critics. Monckton (affectionately called "Lord" Monckton by his admirers) has no scientific training. His lordship credentials have been disputed by the Clerk of the Parliament, representing the House of Lords. Nevertheless, Monckton is one of the Heartland Institute's most distinguished 'scientists' and serves as a 'Heartland Expert' and Policy Advisor, Science and Public Policy Institute.
At NMSR's request, Boslough has agreed to a written "rematch" of this debate. Monckton has never won a proper scientific debate against a scientist, and is the subject of much derision and criticism in the scientific community. NMSR would like to give him a chance at a written debate, to see if he can rehabilitate his reputation in a different format which is more friendly to his training in journalism.
In Santa Fe, Boslough also challenged Monckton to a bet that he refused, and couldn't even get him to commit to any specific predictions. "Prediction is a fool's errand," Monckton sniffed, when Boslough asked to go on record with a forecast.
NMSR is pleased to offer pages of our upcoming editions for this proposed debate. Opening statements, of length 750 to 1000 words, are hereby cordially requested from both Monckton and Boslough, on the topic: "What is the Single Most Important Fact regarding the Veracity of Anthropogenic Global Warming?"
A well-known critic of global warming denialism, John Abraham of the University of St. Thomas, has learned of the proposed debate, and has offered these words of encouragement for the project: "Real scientists consider it a sport to see who can identify the greatest number of Monckton's errors. It's like shooting fish in a barrel. Monckton has given us a never-ending supply of comic misinterpretations of science. I'll be disappointed if keeps his promise to stop giving public lectures. He's a been great ally in showing that denialists live in a fantasy world. The more he opens his mouth the easier it is for us, so I hope NMSR is successful in getting him to talk."
This should be a most interesting exchange. Stay tuned!

Watson to speak on "Evolution of Religiosity"...
The Wednesday, May 8th NMSR meeting will feature UNM's Paul Watson, who will talk about "The Evolution of Religiosity." Paul notes that "My specialty in the human domain over the past 10 years or so has been the evolution of religiosity. I have a very different perspective than the Dawkins gang. I define religiosity as the package of instincts that, together, cause humans to form religions. I'm interested in the adaptive significance of supernatural world views (and contingent runaway subjectivity in general) for the building of ultra-competitive supergroups in humans. ..."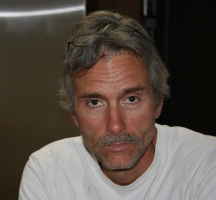 7PM, Wednesday, May 8th, back at the NM Museum of Natural History
Source: http://www.nmsr.org/meetings.htm

NEW POSTINGS AT NMSR...

MAY 2013 PUZZLE - "AND THE WINNER IS..."
http://www.nmsr.org/puzzles.htm

MAY 2013 NMSR REPORTS ON-LINE - upcoming Meetings, Puzzles, Details of Monckton Debate Challenge, Martian Meteorites, MORE!
http://www.nmsr.org/pdfnews.htm

Can't find the story you were looking for??
Try the 2013 News Page, or pages for 2012, 2011, 2010, 2009, 2008, 2007, 2006, 2005, 2004, 2003, 2002, 2001, or 2000.