New Mexicans for Science and Reason

NEWS OF THE MONTH

NMSR is Only 24 Years Old...
In preparation for our 25th "Silver Jubilee" Anniversary at our April 9th meeting, Ken Frazier found files with documents from the formation of NMSR. Surprise, the very first NMSR meeting took place on May 16, 1990.
That means NMSR is celebrating its 24th Anniversary, not the 25th. Oops! Actually, it gives us a whole year to prepare for a proper Silver Jubilee. Charter Members, pencil in May 2015 on your calendars!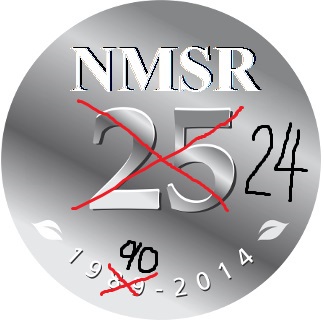 Elections were held. Here is the new slate of NMSR Officers, elected unanimously at the April 9th meeting:
President:Dave Thomas
Vice President: John Covan
Treasurer: Nancy Shelton
Resident Neutron Generator: Eddy Jacobs
Past President: John Geohegan
Kim Johnson, Industrial Physicist
Marilyn Savitt-Kring, Science Mom
We congratulate our new Vice President, John Covan, and say a great big "Thanks!" to outgoing vice-president John Geohegan for his decades of service to NMSR as founder, President, and vice-persident. John will remain on the NMSR board as Past President.
In other meeting news, Dave Thomas made a motion to make dues $20, Nancy Shelton seconded, and it passed unanimously.

Creationists Clamor for Equal Time on COSMOS...
Michael Ross of Examiner.com said March 21st that " On March 20, 2014, Danny Faulkner of Answers in Genesis and the Creation Museum made an appearance on the Janet Mefferd Show to complain that Neil deGrasse Tyson's revival of Cosmos will not provide airtime for Creationism adherents. "Creationists aren't even on the radar screen for them," Faulkner complained. 'They wouldn't even consider us plausible at all.'..."
Source: http://www.examiner.com/article/danny-faulkner-demands-airtime-on-cosmos-for-creatonists
The actual show (go to 31:30 for the quote, 20:00 for the Faulkner interview beginning...): http://www.janetmefferdpremium.com/2014/03/20/
The Young Turks take on Mefferd and Faulkner: http://www.youtube.com/watch?v=y77CH6nxhRE
Actually, Neil deGrasse Tyson already addressed this very demand, in a March 9th appearance on CNN's "Reliable Sources."
On that program, Tyson said "I think the media has to sort of come out of this ethos that I think was in principle a good one, but doesn't really apply in science. The ethos was, whatever story you give, you have to give the opposing view, and then you can be viewed as balanced. In the clip that you showed of the president, you don't talk about the spherical earth with NASA and then say let's give equal time to the flat Earthers.
Plus, science is not there for you to cherry pick. You know, I said this once and it's gotten a lot of Internet play, I said the good thing about science is that it's true whether or not you believe in it, all right.
I guess you can decide whether or not to believe in it, but that doesn't change the reality of an emergent scientific truth.."
Source: http://transcripts.cnn.com/TRANSCRIPTS/1403/09/rs.01.html

Paluxy Dinosaur Chase Scene Reconstructed...
Victoria Gill of BBC News said on April 2nd that "Scientists have digitally reconstructed the scene of a dinosaur chase - preserved in the mud of an ancient river bed in Texas.
The tracks were left by two dinosaurs more than 110 million years ago.
Seventy years ago, the whole trackway was removed from the river bed and divided into blocks, which were moved to different locations for study.
Some of these blocks have been lost, but the team managed to use old photographs to reconstruct the site.
The research is published in the journal Plos One.
Lead researcher Peter Falkingham, from the Royal Veterinary College, said he and his colleagues had used just 17 photographs taken by American palaeontologist Roland T Bird, who first excavated the site in 1940. ."
Source: http://www.bbc.com/news/science-environment-26851336

NM Tech Team Helps in Search for Exoplanets...
Bob Martin of KRQE News 13 said on April 4th that "Are the planets that are circling other stars in the Milky Way hospitable enough to support life? Itís one of the most compelling questions in science with many large research institutions across the globe seeking the answer.
Now researchers and students at New Mexico Tech are playing a major role in the quest to reveal whatís in the air on these extra solar worlds called Exoplanets, outside our solar system.
Collaborating with NASA, a New Mexico Tech team recently completed building an instrument called NESSI, that was attached to Techís existing 2.4 meter telescope to probe alien worlds in a new way, to reveal the actual chemical composition of their atmospheres.
Analysis of Exoplanet atmospheres may not just reveal whether life can be supported, but also someday, whether life may already exist on some of these worlds. Scientists say if potentially organic compounds like methane are discovered, they may indicate a biological process underway.
New Mexico Tech physics professor, Dr. Michelle Creech-Eakman, is co-investigator for NESSI, the New Mexico Exoplanet Spectroscopic Survey Instrument. She says the $3.5 million instrument is the first purpose-built device for the analysis of exoplanet atmospheres.."
Source: http://krqe.com/2014/04/04/nm-tech-exoplanet-search-is-earth-alone/

NEW POSTINGS AT NMSR...

APRIL 2014 PUZZLE - "Black and White Hats"
http://www.nmsr.org/puzzles.htm

APRIL 2014 NMSR REPORTS ON-LINE - Elections coming, Puzzles, Discovery institute Attacks Cosmos, MORE!
http://www.nmsr.org/pdfnews.htm

Can't find the story you were looking for??
Try the 2013 News Page, or pages for 2012, 2011, 2010, 2009, 2008, 2007, 2006, 2005, 2004, 2003, 2002, 2001, or 2000.