What's New at NMSR?
Updated January 1st, 2010

NMSR Science Watch is NOW ON PODCAST!!!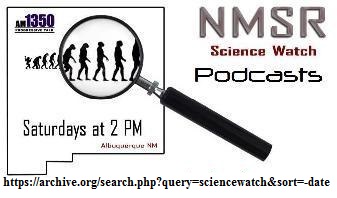 http://www.nmsr.org/podcast.htm
Science Watch Radio is a BEST OF REPEAT on January 1st, 2010!
MYSTERY SHOW - TUNE IN TO SEE WHAT GOT PICKED!

Best and Worst Awards for 2009!

NM Skeptic - the Blog of NMSR

Next Meeting
NMT geologist Steve Cather, talking on "Explosive volcanism, oceanic iron fertilization, and their relationship to global cooling episodes."

Hot News of the Week
Vaccinations Save Lives (Gasp!), Ebert on New Age Nonsense, Mystery Spiral In Norway, Ghost Ranch Find Sheds Light on Dino Dawn, MORE!

DECEMBER '09 PUZZLE - "The Absent-Minded Rider"
http://www.nmsr.org/puzzles.htm

DECEMBER 2009 NMSR REPORTS ON-LINE - New Puzzles, Spectroscopy, WonderQuest, MORE!
http://www.nmsr.org/pdfnews.htm

Creationist Legislation, New Mexico Legislature, 2009 60-day Session

Civilian Nuclear Energy by Dr. Marshall Berman
Posted December 3rd, 2008

Strengths and Weaknesses by P.S. Braterman
Posted December 19th, 2008

Marshall Berman's Feb. 13th, 2008 Darwin Day Talk "The 'Intelligently Designed' Attack on Science and Society" is ON-LINE!

Homeopathy - Quack Medicine. A Special Report by Harry M. Murphy

New Article: "Beyond Earthquake Lights: Progress in Seismo-EM" by Alberto Enriquez
NMSR's Rio Rancho Science Policy 401 UPDATE

April Holladay's Wonder Quest column for January 2008: Vacuum - where nothing weighs something

WEIRD PIX - A Weird Triangular Cloud?

Update of "Know your New Mexican Creationists" : Dianne Anderson and Mark Mathis

WHAT has Larry Barker learned about "The Aztec UFO Crash"? Log in to KRQE TV13 at to find out!
Is There A Systems Biologist In The House?
Intelligent design supporters find new, creative ways to get their message out
"Cheshire Cat" Creationism in New Mexico - from the Panda's Thumb
Know Your Creationist Candidates!
Analysis of ID/Creationist Bills in NM Legislature
New Mexico Update: Disco Plays the Usual Cards
New Letter of the Month (July 2006)
KRQE INTERVIEWS DAVE THOMAS ON SOCORRO UFO
Rio Rancho 'Science' Policy Amended
New Fumbles for April - AbqJournal goes Digit-Crazy!
SHOCKING NEW "GEORGE HARRISON" CODES FOUND IN WAR AND PEACE!
The C-Files: D. Russell Humphreys page UPDATED
New Poll - "Which is the REAL UFO?"
"Monkey in the Middle" (a play on the Scopes Trial) Review
Hot News from earlier in 2006 .... From 2005 ... . From 2004 ... From 2003... From 2002... From 2001... From 2000


MUST-READ FEATURES:

History of Evolution/Creation Battles in New Mexico - Part I
History of Evolution/Creation Battles in New Mexico - Part II
Do NM's Science Standards Embrace Intelligent Design?
The Lie: "New Mexico's Science Standards embrace the Intelligent Design Movement's 'Teach the Controversy' Approach"
NMSR's Workshop on Teaching Evolution is now ON-LINE!

It's ba-a-ack! The Bible Code II - SHOCKING Secret Messages Found!
NEW ARTICLE on "Bible Code Digest" Claims!
CHEMTRAIL FEARS THRIVE ON INTERNET
April Fools: The Joke Heard 'Round the World
NMSR Teams with KRQE-TV13 on "Magnetic Water Conditioners"
Poor Psychic Ana - IF ONLY SHE'D KNOWN!!
NMSR World Exclusive: What does a Creationist Infomercial Cost?
NMSR World Exclusive... "LOST" Lottery Leads Losers to Lumps!
Upcoming & Previous NMSR Media Appearances
Watch the MT. ST. HELENS VOLCANO-CAM!!
Complete Site Map available at bottom of Every Page!

DAVE THOMAS CAN BE REACHED AT

nmsrdaveATswcp.com

or alcazarusATyahoo.com
(Help fight SPAM! Please replace the AT's with @'s )
NOTE - PLEASE USE A DESCRIPTIVE SUBJECT LINE!
E-MAILS WITH NO SUBJECT LINE, OR ONLY A ONE-WORD SUBJECT LINE,
WILL BE AUTOMATICALLY DELETED AS SPAM!